Important Instructions to Process an Emergency Exit Permit/Out Pass
The Applicant must produce a valid copy of his/her own Birth Certificate or CNIC or Passport along with his parent's CNIC copies.

No need to bring any picture.

Please visit the Consulate before you buy the ticket to check your eligibility. 

Exit Permit/Out Pass will be issued within 3-5 days after successfully submission of the same. 

Note: Free tickets are also available for those who are unable to buy their tickets. However, free tickets will take around 1-2 months  to be issued to the eligible illegal immigrants.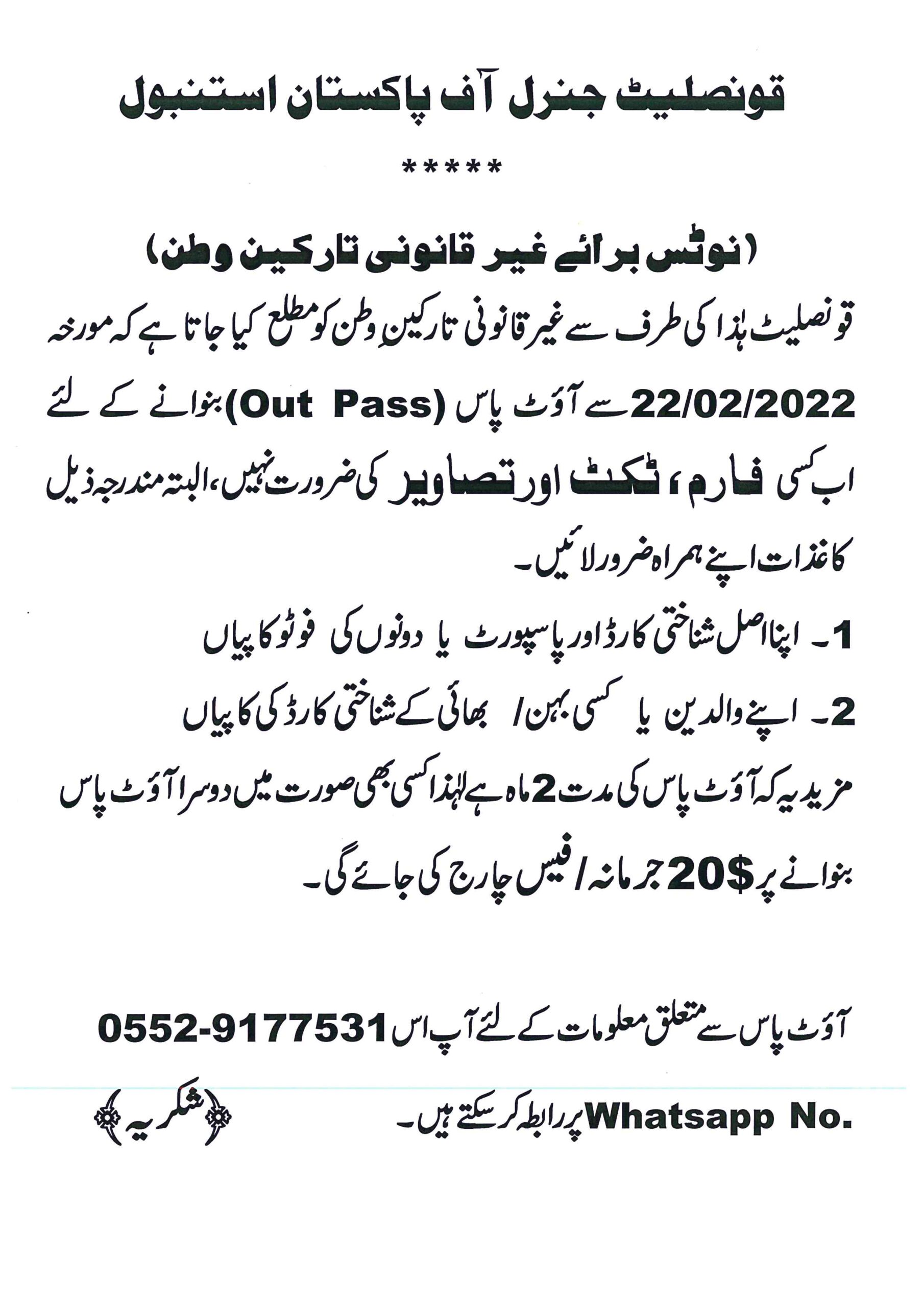 نوٹ:

1.جو لوگ ترکی کے کسی بھی کیمپس/ ڈی پورٹیشن سینٹرز میں نظر بند ہیں، پہلے انہیں نادرا کی تصدیق کے لیے اپنا ڈیٹا (CNIC/پاسپورٹ وغیرہ) ڈیپورٹیشن سینٹر کو فراہم کرنا ہوگا۔ نادرا سے تصدیق کے بعد ان کی پاکستان واپسی کا عمل شروع کیا جائے گا۔

2. وہ تمام لوگ جنہیں ابھی تک اپنا CNIC یا پاسپورٹ جاری نہیں کیا گیا ہے، انہیں اپنے آؤٹ پاس پر مزید کارروائی کرنے کے لیے پاکستان سے اسٹامپ پیپر پر درج ذیل حلف نامہ کی ضرورت ہوگی۔